Smart Pack
The GO-SIM International SIM Card is packaged with the stylish Smart 2 handset. It is packed with all the features you'd expect from a Smartphone including an Android operating system, built-in Apps, camera, video recording, along with instant access to the Internet and all your favourite social media sites. What makes it stand out from the crowd is its Dual SIM capability, which means it can hold two SIM cards, perfect for when you're travelling.
Stay in touch in over 190 countries worldwide, on airlines and 220 Cruise Ships across 380 networks. Keep in touch using your USD$10 included call, text and data credit and add more as you go.
Rates are easy to understand and are set with a flat rate per region with data starting at USD$0.25 and calls and texts starting at USD$0.35. You can also reduce the data rate to only USD$0.06 per MB by adding a Data Plan before checkout or after activation.
Share your global number with family and friends and they can call you at no charge to them using a toll-free number.
Smart Pack includes:
Multi-fit SIM
International Mobile Phone and Global number (+44)
Voicemail functionality
Rates and Coverage
Calls, Texts and Data
Calls and texts start from USD$0.35 per min or text. Data rates start from only USD$0.25 per MB
The GO-SIM International SIM Card provides you with simple roaming rates by region with coverage extending to over 190 countries including airlines and over 220 Cruise Ships.
Country / Region
Data (per MB)
Making and receiving calls (per min)
Sending texts (per SMS)
Europe*, New Zealand, South Africa
USD$0.25
USD$0.35
Caribbean*, South America*, East Asia*, SE Asia*, India, Russia, Ukraine, Mexico, UAE, Saudi Arabia, Qatar, Ghana, Kenya, Nigeria and Fiji
USD$0.45
USD$0.75
South Asia*, West Asia*, Afghanistan, Cameroon, Egypt, Morocco, Senegal, Tanzania, Uganda and more
USD$0.75
USD$0.95
Rest of the world
Refer to the Rate Finder
Receiving texts (worldwide, per SMS)
USD$0.09
* Covers majority of the countries in the region. Please use the rate finder to determine exact rates.
Best calling experience
Make a call as if you were back home. Dial a number and instantly connect to your receiver. No callback in 90 countries!
Prepaid account
Prepaid, so no contracts, monthly fees or bill shock
24/7 Customer Service
Our 24/7 Customer Service team are on standby to take your call, email or online chat available in multiple languages.
Free Calls for Family and Friends
Family and friends can call from the USA, Australia, Canada, France, Germany and UK at no charge to them by dialing a toll-free number.
Global Travel Smartphone
Go anywhere in the world knowing your global travel smartphone can connect to any of the 380 networks available.
Track your Balance
Use the free TravelApp to track your account balance and top up as you go. All you need is a smartphone device.
Add-ons
Make the most of your SIM Card with these add-ons
Press the Add to Cart button to configure your SIM and add a prepaid data plan, you will enjoy highly discounted data rates, saving up to 300%. You can also purchase a data plan after activating your SIM. Download data almost anywhere in the world!
Zone-A Plan
                  Zone-B Plan

Includes: majority of Europe and SE Asia plus UK, Canada, USA, Australia

Includes extended ZONE-A coverage plus United Arab Emirates and majority of Caribbean, South America

Data Options - USD$
500MB - USD$39
1GB - USD$69
2GB - USD$119
250MB - USD$29
500MB - USD$49
1GB - USD$89
Alternatively, your pay-as-you-go credit will allow you to access the internet in over 190 countries. View the rate finder.
Add Airtime Credit
It is fast and easy to add more pre-paid credit anytime online, through the FREE travel app or over the phone through our 24/7 customer support team. With our travel SIM card, we've got you covered worldwide.
Add a US number (+1)
For only USD$2 a month you can subscribe to a +1 number which will be added to your service. Family and friends will be able to contact you using your Global (+44) or US (+1) number. This option will be available in your account's page once you've activated your SIM.
JT Smart 2 Dual-SIM
The JT Smart 2 traveler's phone is the perfect device for today's globe trotter.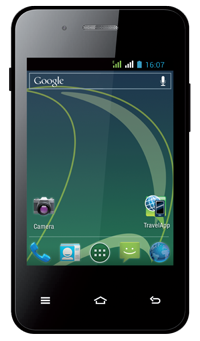 It's dual sim functionality allows you to take your home SIM card as well as one of our International SIMs to ensure you get excellent rates and never miss a call while abroad, again.
This state of the art handset features a 3.5'' touchscreen and runs Android 4.2 (Jelly Bean) and is powered by a 800MHz processor along with Bluetooth, WiFi & GPS.
The JT Smart 2 is great for capturing videos and photos on the move with its built in camera. Shoot, snap and share your experiences on your favourite social channels at the touch of a button. The Smart is equipped with 4GB internal storage which is expandable by another 32GB via microSD card.
View the userguide
Please note:
- JT Smart 2 does NOT work in USA, Australia, Canada, Cambodia, Israel, Japan or South Korea.
Unlocked
2G Quad-Band GSM 850/900/1800/1900 MHz
Dual SIM (can operate two Active SIM cards at the same time)
3.5" touchscreen
Rear & front camera
Micro SD slot (32GB)
Jelly Bean OS (Android 4.2)
Wi-Fi
A-GPS
Bluetooth V3.0
Video and music player
Preloaded with the JT Travel App
Speakerphone/handsfree
Accelerometer
Dimensions: 4.52" x 2.45" x 0.40" (115 x 62.3 x 10.3mm)
Weight: 3.31oz (94g)
Battery Type: Lithium-ion
Capacity: 1000mAh
Talk Time: 6h
Standby Time: 200h
Protect your SIM card for life
Protect your GO-SIM SIM Card for a lifetime!
In the event of accidental loss, damage or theft we will get you a replacement Travel SIM fast.
Opt for a single payment of either Lifetime or 12 month cover.
Covers accidental loss, damage and theft of SIM
Transfer credit to replacement card
Free delivery to your chosen destination
Lifetime cover and 12 month plans are available and can be selected at the checkout
Terms and conditions apply
7-day money back guarantee
We're so confident that you'll be happy with your new GO-SIM International SIM card, we're offering a money back guarantee.
If you're in any way dissatisfied and wish to cancel your International SIM service, you can contact the GO-SIM support team within 7 days of receipt and request a refund. We'll then give you a returns number and when your SIM card arrives back with us we'll credit your account with the original cost price of the SIM card. If any additional credit that has been purchased, but not used, we will be happy to credit you for this too.
USD$20


Credit
250MB


Data
World Pack
Includes International SIM + USD$20 Credit + 250MB Data
1GB


Data
USD$20


Credit
World Plus Pack
Includes International SIM + USD$20 Credit + 1GB Data
World Phone Pack
Includes International SIM + USD$10 Credit + Quad Band Handset